My 21 Point Comprehensive Marketing Plan has been designed to get as many qualified buyers into your property until it is SOLD!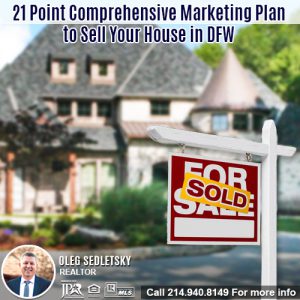 The Home Selling Process consists of Several phases (See Home Selling Process Page).
My 21 Point Comprehensive Marketing Plan covers the "Marketing Your Home" phase. You can see exactly how my action plan works for you.
After we will accept the offer the next phases of Home Selling Process will begin (Purchase Offers and Negotiations, Contract, Home Inspection, Escrow and CLOSING).
21 Point Comprehensive Marketing Plan To Sell Your House Quickly
1. Execute Comparable Market Analysis (CMA) in order to help you determine the right price for your House

2. Provide you with necessary information to help you Get Your Home Ready For Sale

3. Provide you with necessary information to help you Stage Your House

4. Take Professional Photos of your House including Aerial Photos and Video

5. Create Video Tour of your house

6. Create 3D Tour of your house

7. Place a professional "For Sale" sign on your property. Install lock box. Setup House showing procedure

8. Create a professional brochure/flyer for potential Home Buyers

9. Create a Home Book for display at the property (include photos, more detailed information, covenants, plat, maps, etc.)

10. Create dedicated website for your House

11. Set up a dedicated QR code to allow buyers to access information and the dedicated property website at their convenience.

12. Enter Your House listing into the MLS system.

13. Syndicate listing to major real estate websites.

14. Promote Listing to Brokers/Agents in my office, region and globally

15. Create and Execute Advertising Your House on Social Media

16. Advertise and Hold Open House

17. Arrange for and coordinate showings to potential buyers.

18. Follow-up on Internet leads

19. Send an email "E-Blast" to all MLS agents with the new listing or updates

20. Prospecting daily to find a buyer for your house

21. Aggressively follow-up with prospective buyers
Are you ready to sell your house in DFW?
– Let's Do Business! Please Fill Out The Form Below