Since no two houses are exactly the same there are bound to be unique features of your home that affect it's value in a positive way.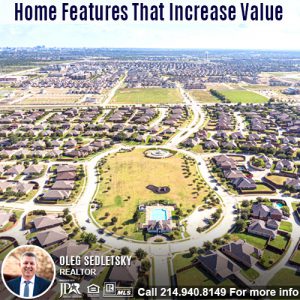 It's a good idea to take some time to consider these factors before deciding on a list price.
The obvious ones are remodels and upgrades, but what about the less common features that increase value?
If your home has any of the following, it could increase the value:
Nearby state, county, or city parks
If your home is in close proximity to any parks, this could positively affect it's value.
Studies have shown that homes within 1500 feet of public parks can increase the value anywhere from 8-20 percent.
Nearby professional sports arenas
Being close to big entertainment centers can be beneficial.
Of course a location like this won't be ideal for every buyer, butbeing close to stadiums has generally shown to increase home values.
Starbucks
According to "The New Rules of Real Estate" by Zillow's CEO and Chief Economist, homes near this popular coffee chainare shown to appreciate faster than those located farther away.
Trees
Landscaping and curb appeal often get overlooked as features that can increase your home's value.
However, trees are avaluable asset!
Whether they're in your yard or just around the neighborhood, having well-kept mature trees can increaseyour home's value.
Walkability
Is there anything nearby that you can walk to? Schools, shops, grocery stores, etc.
Highly walkable neighborhoods arelikely city dwellings but even in suburban communities just having a few things to walk to can increase the value of yourhome.
View
Sometimes home values in the same neighborhood can vary greatly based on location in the neighborhood.
If your home has a nice view, that will most likely have a positive impact on its value.
Again, I encourage you to take some time to think about all the factors that might positively affect your home's value. Take these into consideration before deciding on a final list price.
Are you ready to sell your house in DFW?
– Let's Do Business! Please Fill Out The Form Below